---
Shrewton Visit Windsor Castle!
23-Oct-2015
Shrewton Silver Band has been leading the way in the presence of a couple of high ranking Dukes…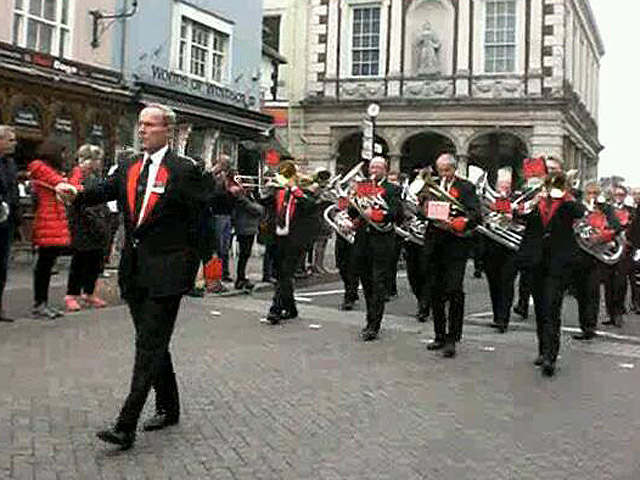 Shrewton Silver Band based in a small village based near the world famous World Heritage site of Stonehenge in Wiltshire, certainly enjoyed the recent opportunity to perform for royalty.
The band regularly performs in support of the Regimental Association of the Rifles & Royal Gloucestershire, Berkshire and Wiltshire Regiment based in Salisbury.
March past
With the 100th anniversary of the Battle of Loos and 70th anniversary of the ending of the Second World War being commemorated at Windsor Castle in the presence of Patrons, the Dukes of Edinburgh and Gloucester, the band was invited to lead the march past.
Following a short parade through Windsor (above), there was a service of Commemoration in St George's Chapel.
'It was very much a military occasion, so it was a great honour for a civilian band to undertake this high-profile commitment'
~ Band spokesperson.
Great honour
A spokesperson told 4BR: "It was very much a military occasion, so it was a great honour for a civilian band to undertake this high-profile commitment.
It also gave our recently retired army Drum Major the chance to put the band through their paces and sharpen up our deportment and parade work!"
Thanks
Later, the Duke of Edinburgh expressed his appreciation, making this one of the proudest moments in the band's long 150 year history.
---
Band Awards Night
25-July-2015
What a fantastic night! Great fun get together as always, with a terrific bring and share BBQ. Followed by the Awards ceremony. Congratulations go to these Winners!
Junior Cup – Leo
Most Improved Player  – Brad Sturgess
Best Section – The Basses
Alan Dunford Cup – Mike Reader
Bandsperson of the year  – Jenny Chambers

---
Bugle Contest
20-June-2015

What a brilliant experience for the band, marching down the main street though Bugle, playing our hearts out to an enthusiastic crowd lining the pavements. Such a well attended contest, very well supported! Shrewton Silver Bands 1st appearance at this amazing historic March Contest and we came away with Silverware! Winning a very impressive shield for Deportment. Well done all! Of course as expected plenty of fun and frolics were had over the weekend, I think the band should combine camp-site rehearsals and BBQs more often!
For the full report of the day results etc from 4barsrest, follow this link – Bugle2015. See all the photos from the weekend on our Gallery page.
---