Band President of 39 years, Peter Sweet has Sadly Passed Away
Aug 2018
Lt Col (Retd) Peter Alfred Sweet passed away on 3rd August 2018 after a brief period of illness when the lurking prostate cancer finally took hold.
Sharp minded, with a memory to put most to shame, he remained in good spirits with activities until the close. He had a distinguished service with The Queens at the end of the war, before transferring to the Gunners in 1947. He continued to serve admirably at Larkhill as a Retired Officer in Gunnery Wing.
Concurrently, he was heavily involved in the RAYC, spending many happy days at sea and many more perhaps less enjoyable days in the administration and financial affairs of the club. He was immersed in the RA Race course, being Clerk of the Course for many years, gaining huge pleasure from the people and events held at Larkhill.
He settled in Shrewton in the mid 70s and became President of the Shrewton Silver Band, President of the Shrewton Cricket Club, a key member of the Youth Club and a SPVA visitor to local service personnel for years. He was a devout member of St Mary's Church, Shrewton as treasurer, church warden, chorister, bell ringer and constant attender for more than 40 years. He was a founder member of the Shrewton Candlemas Charity which he resurrected from nothing to become a thriving charity supporting those in need in the village. He thoroughly deserved the MBE for Community Service to the village in 2012. He was always able to talk to and be interested in all range of folk, young and old, from any background.
He will be sorely missed, not only by his children, Peter, Debs, Tim and Nicky, his 9 grandchildren and 13 great grandchildren but by the villagers of Shrewton and any who were fortunate to know him.
---

Band Receives Grant!

June 2018
Shrewton Silver Band has recently received a grant from the Wiltshire Council Area Communities Boards (Amesbury) for new music and new music stands. We are extremely grateful to the Council for this grant as it allows the band to update it's music repertoire and to update it's worn out music stands. Shrewton Silver Band will be representing, not only Wiltshire, but the West of England at the National Brass Band Championships Finals of Great Britain in September. The music test piece for the National Finals (Firestorm) was the first to be purchased using the funds from the Council. Thank you Wiltshire Council for your support to a small village band.
---
Mike Dunford receives Community Award!
18-Jan-2018
Amesbury Area Board holds first community awards
More than 100 people packed into Amesbury Area Board's first community awards last night (18 January) to recognise people who have gone above and beyond to help their communities.
The special event was held at Antrobus House with awards given out to young people, individuals and teams.
The evening began with light music from Shrewton Silver Band before the awards were presented by Amesbury Area-based athlete and former Major in the Army Cornelia Oosthuizen. Cornelia competed in wheelchair tennis, swimming, cycling and golf in the 2017 Invictus Games.
Cllr Darren Henry said: "This was a great opportunity to recognise and celebrate the warmth and generosity of our Amesbury area communities. It is always the people who bring communities together and I was delighted to be a part of this special evening."
Cornelia said: "This was a fantastic event to recognise a wide variety of voluntary work across the Amesbury Area. It was a privilege to meet volunteers that are so passionate and generous with their time and effort."
The winner of the individual award Maureen Atkinson said: "A big thank you to the area board and yourself for laying on the presentation ceremony tonight. It was a lovely way of thanking the huge number of volunteers that work in our communities. I was delighted to receive my certificate but stunned and very proud to receive the trophy. A massive thank you to all those organisations who nominated me. Please pass on my thanks to all the councillors, who each deserve an award themselves!"
Winner of the Under 18s Charlie Henry said: "Tonight was truly amazing and I really appreciate the recognition from all of you."
The winner in the team category was The Durrington Charity Fundraisers. Other highly commended individuals on the night were: Peter Dennis, Carolyn Tayltor, Claire Hutton, Dawn Watson, Gillian Clarke, Jean George, Katie Thomas, Laura Brisbane, Michael Dunford, Roger Stokes, Stacey Hartness, Terry Kemp and Tom Cox,
Highly commended in the team category were: St Giles' Church Café, Durrington Post Point, Amesbury Youth Café, Get Wiltshire Walking and Mighty Ducks Explorers. Highly commended in the under 18s category was Collett Gullwell.
---
Shrewton Grab the Silverware in Torquay!
04-Nov-2017
Torquay, the English Riviera…the place the rich and famous like to be seen at the Riviera International Conference Centre for the South West Brass Band Association's 71st Annual Championships.
Shrewton Silver Band gained a very creditable 2nd place in the Second Section with their rendition of Purcell Variations.  This is a great  result for the band who performed to the high standard the award deserved.
Click on the link for more Pictures of our Wonderful Weekend! Torquay November Contest 2017
---
Shrewton Visit Windsor Castle!
23-Oct-2015
Shrewton Silver Band has been leading the way in the presence of a couple of high ranking Dukes…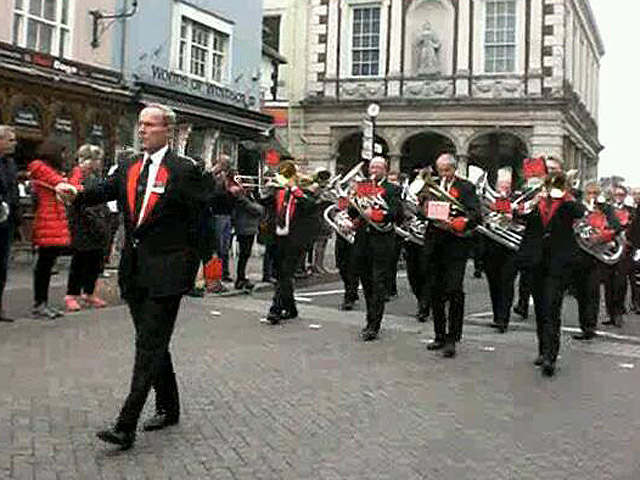 Shrewton Silver Band based in a small village based near the world famous World Heritage site of Stonehenge in Wiltshire, certainly enjoyed the recent opportunity to perform for royalty.
The band regularly performs in support of the Regimental Association of the Rifles & Royal Gloucestershire, Berkshire and Wiltshire Regiment based in Salisbury.
March past
With the 100th anniversary of the Battle of Loos and 70th anniversary of the ending of the Second World War being commemorated at Windsor Castle in the presence of Patrons, the Dukes of Edinburgh and Gloucester, the band was invited to lead the march past.
Following a short parade through Windsor (above), there was a service of Commemoration in St George's Chapel.
'It was very much a military occasion, so it was a great honour for a civilian band to undertake this high-profile commitment'
~ Band spokesperson.
Great honour
A spokesperson told 4BR: "It was very much a military occasion, so it was a great honour for a civilian band to undertake this high-profile commitment.
It also gave our recently retired army Drum Major the chance to put the band through their paces and sharpen up our deportment and parade work!"
Thanks
Later, the Duke of Edinburgh expressed his appreciation, making this one of the proudest moments in the band's long 150 year history.
---
Band Awards Night
25-July-2015
What a fantastic night! Great fun get together as always, with a terrific bring and share BBQ. Followed by the Awards ceremony. Congratulations go to these Winners!
Junior Cup – Leo
Most Improved Player  – Brad Sturgess
Best Section – The Basses
Alan Dunford Cup – Mike Reader
Bandsperson of the year  – Jenny Chambers

---
Bugle Contest
20-June-2015

What a brilliant experience for the band, marching down the main street though Bugle, playing our hearts out to an enthusiastic crowd lining the pavements. Such a well attended contest, very well supported! Shrewton Silver Bands 1st appearance at this amazing historic March Contest and we came away with Silverware! Winning a very impressive shield for Deportment. Well done all! Of course as expected plenty of fun and frolics were had over the weekend, I think the band should combine camp-site rehearsals and BBQs more often!
For the full report of the day results etc from 4barsrest, follow this link – Bugle2015. See all the photos from the weekend on our Gallery page.
---